Ernst & Young LLP Announces Juliet Breeze, MD, as Entrepreneur Of The Year Winner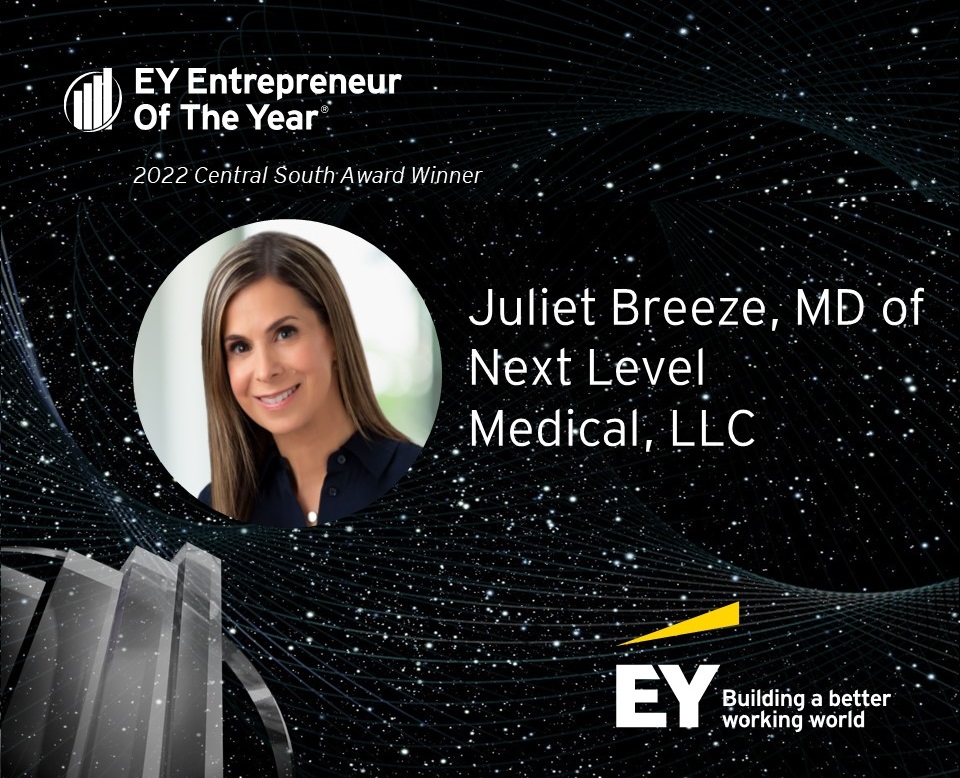 Crowning a Healthcare Pioneer
Houston, June 24, 2022 – Ernst & Young LLP (EY US) today announced that Juliet Breeze, M.D., founder and CEO of Next Level Urgent Care, was named an Entrepreneur Of The Year® 2022 Central South Award winner. Entrepreneur Of The Year is one of the preeminent competitive business awards for entrepreneurs and leaders of high-growth companies who think big to succeed. An independent panel of judges selected Dr. Breeze based on her entrepreneurial spirit, purpose, growth, and impact, among other core contributions and attributes.
"It is an honor to receive this award and be in the company of such talented, hardworking individuals. I look forward to the relationships that will develop from being a part of this prestigious affiliation," said Juliet Breeze, M.D., founder and CEO of Next Level Medical. "This award is further validation that at Next Level, we are really on to something. Healthcare needs to be available to patients when and where they need it. Integrating virtual care and in-person care. Our membership model has gained incredible momentum this year, and we plan to continue to expand regionally and then nationally. I would love to say that Next Level was part of moving U.S. healthcare to the Next Level!"
As a Central South award winner, Dr. Breeze will now be considered by the National independent panel of judges for the Entrepreneur Of The Year 2022 National Awards. National finalists and winners, as well as the Entrepreneur Of The Year National Overall Award winner, will be announced in November at the annual Strategic Growth Forum®. The Entrepreneur Of The Year National Overall Award winner will then move on to compete for the EY World Entrepreneur Of The Year™ Award in June 2023.
The Entrepreneur Of The Year program has honored the inspirational leadership of entrepreneurs such as:
Cherie Kloss of SnapNurse
Saeju Jeong of Noom
Joe DeSimone of Carbon, Inc.
Howard Schultz of Starbucks Coffee Company
Jodi Berg of Vitamix
Reid Hoffman and Jeff Weiner of LinkedIn Corporation
Hamdi Ulukaya of Chobani, Inc.
Kendra Scott of Kendra Scott LLC
Andreas Bechtolsheim and Jayshree Ullal of Arista Networks
James Park of Fitbit
Daymond John of FUBU 
Sheila Mikhail of AskBio
Explore the Full Press Release
To read the full press article on EY.com, click the button below!
Read the Release
What would you like to do?